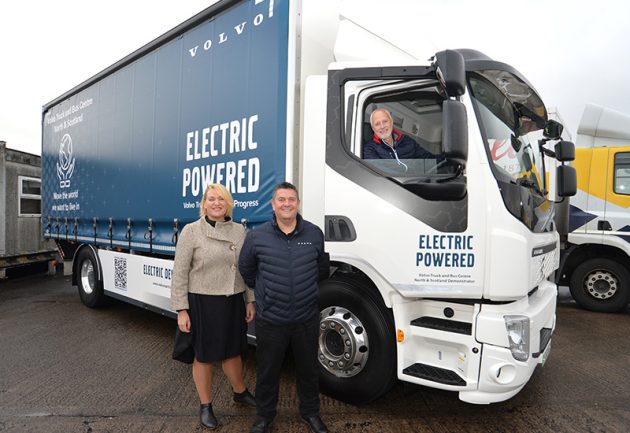 Case studies to help decarbonise Scotland's wholesale transport
Two case studies have been produced by the Scottish Wholesale Association (SWA) to help the wholesale sector highlight and understand what is needed to decarbonise transport fleets and achieve net zero
One of the case studies focuses on HGVs and the other shares wholesalers' journeys to decarbonise their car fleets.
Working with the SWA, the wholesalers – JW Filshill, United Wholesale (Scotland), Lomond Fine Foods and Dunns Food and Drinks – along with Glasgow-based Tennent's, one of Scotland's leading drinks suppliers, have all trialled and implemented low-carbon and zero-emissions vehicles within their fleets.
Aimed at highlighting their achievements, the two case studies also set out to support SWA members – both wholesalers and suppliers – to take similar action.
As identified in the SWA's recent report, Decarbonising the Scottish Wholesale Sector, transport accounts for nearly 70% of climate change emissions from the Scottish wholesale sector (67.1%, with HGVs accounting for 63.7%) – and demands are increasingly placed on businesses to make changes to accelerate their transition to net zero.
Ylva Haglund, SWA head of sustainability and engagement, said: "Reducing wholesale emissions from our transport fleets is critical for the sector to achieve net zero. In 2021, the UK Government announced that it will phase out the sale of new non-zero emission heavy goods vehicles (HGVs) weighing 26 tonnes or more from 2035. From 2040, all new HGVs sold in the UK must be zero emission."
During the SWA pilot, three wholesalers worked with Volvo Trucks to trial the Volvo FE 19-tonne curtain sider truck with built-in rear-lift. Three wholesalers have also shared their experiences of switching their car fleets to electric vehicles.
Ms Haglund said: "The Volvo trial instilled confidence in managers and employees when considering their future use of electric HGVs and it was encouraging that negative perceptions about EV HGVs quickly turned to a positive reception among drivers, thanks to the higher standard of vehicle, for example, reduced road noise, increased acceleration, and a modern comfortable cab.
"A key learning was the importance of internal influencers to challenge the initial negative perceptions and encourage behaviour change among colleagues. An experienced driver, whose opinions is particularly respected, was shown to be highly effective in changing attitudes and behaviours.
"This has told us that designated EV champions within wholesale businesses could be the first port of call for those who have questions regarding the new vehicles and help with any training needs."
The trials also highlighted that drivers experiencing range anxiety and worrying about running out of charge overcame this as all the wholesalers were able to charge the vehicle overnight back at the depot, using a mobile charger.
Supplier Tennent's, however, said that comprehensive training would be crucial as the behaviour of individual drivers can influence the efficiency of the battery.
Each participating wholesaler also noted that for successful fleet electrification route planning may need to be adapted. Strategic and efficient route planning could mean that the electrification of certain routes is more feasible as the drops may be closer together.
Wholesalers further highlighted that for larger-scale electrification, charge points would have to be installed at depots which brings challenges for businesses in terms of the significant investment required. Many wholesalers may need to reconfigure how, when and where they park their vehicles, and will require the confidence that there is sufficient public charging infrastructure for EVs travelling longer distances.
"Ultimately, cost is a critical factor in restricting uptake of EV trucks by wholesalers, as they are up to three times the cost of a diesel vehicle," Ms Haglund said.
"Trial participants stated that innovative financing models are needed to overcome the challenges of higher upfront costs although participants did highlight, however, that cost is not the only consideration, and that decarbonising could help future-proof their businesses.
"It is clear that the capital cost of the transition to electric vehicles is prohibitive to many smaller wholesalers taking action and SWA calls for fairness and equity in targeted support for the wholesale sector through a funding mechanism equivalent to phases one and two of the Zero Emissions Bus Challenge (ScotZEB)."
Looking at car fleet decarbonisation in the second case study, participants found that there were huge carbon and cost business benefits but also benefits for employees. Sam Henderson, managing director of Lomond Fine Foods, said: "The electric company cars are well received by employees as they get a better standard of vehicle and also save on tax. Internal calculations estimate that each electric company car saves the employee around £250 in tax each month."
Lomond Fine Foods provided home chargers for employees and this was both successful and popular. However, for employees living in tenement-style accommodation, this proved problematic as they had to rely on accessing the chargers at the main depot and public networks.
Again, the issue of range anxiety was raised with Dunns Food and Drinks advising that businesses should be realistic about the range of vehicles and planners should be prepared to rearrange the usual routes so vehicles can be strategically placed.
Ms Haglund said: "The featured wholesalers have committed to achieving net-zero emissions before, or in line with sector and national commitments, and intend to move forward with fleet decarbonisation. The companies are also investigating other alternative fuels such as hydrogen, predominantly for the larger vehicles in the fleet.
"While the current transition leans toward electrification for Lomond, Dunns and United Wholesale (Scotland), it is recognised that the future should be embraced including the monitoring of new technologies to find the right fit for each vehicle moving forward."
Overall, she added, both trials have shown that change is possible, but more and faster action towards resolving remaining barriers, involving all stakeholders, is now needed in order to accelerate the decarbonisation of vehicle fleets and help organisations reach internal and national targets.
"However, there are still gaps that require further investigation and action for fleet transition to be successful," she said. "SWA will continue to work on the Zero Emissions Truck Taskforce, looking at financing the transition and how collectively we obtain further insight into how to overcome challenges such as range, strategic route planning, and public infrastructure for HGVs, including grid connection."