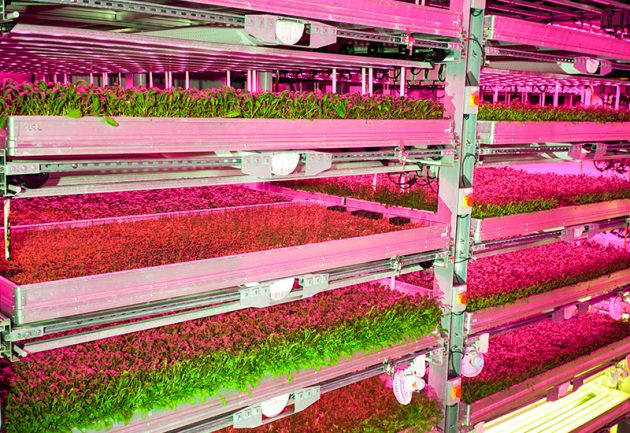 Fresh Direct partners with Fischer Farms to boost sustainability
Fresh Direct has partnered with Fischer Farms to launch a range of British-grown herbs and leafy greens, giving foodservice customers access to high quality, locally-produced fresh produce
The partnership aims to improve supply chain sustainability with products currently having to be transported across continents before reaching customers. Fresh Direct will sell vertically farmed fresh produce, including basil and watercress, grown in Fischer Farms' biosecure vertical farm in Norwich.
Vertical farming can also help address some of the logistical issues currently facing the food industry, including crop quality and availability, and environmental concerns around air freight and food miles. The high quality produce is grown all year round, minimising food miles and reducing reliance on overseas imports from countries as far away as Kenya.
Fischer Farms' stacked, climate controlled growing environment, which is the equivalent of 825 football pitches, means it can produce British-grown crops all year round, completely independent of extreme external weather conditions, which have caused severe shortages on some imported crops this year.
Tom Bartlett, Trading Manager, Fresh Direct said: "The partnership with Fischer Farms will lead the way in the foodservice industry. It will help to deliver year-round quality and consistency. And, importantly for chefs, the product will be high quality and look and taste fresher as it will not have to stand up to the rigours of a very difficult supply chain."
Jon Cummings, Sales Director at Fischer Farms, explains: "Historically, some traditionally grown herbs have travelled thousands of miles before arriving on restaurant menus, with the quality inevitably suffering as a result. However, using the very latest vertical farming innovations, we can produce the freshest, highest quality produce, that chefs will love, all-year-round. This highly advanced technique takes the strain out of the supply chain, solves some of the most complex challenges currently facing the foodservice industry, and meets their environmental agenda. We look forward to working in close partnership with Fresh Direct and building a more resilient and sustainable supply chain for foodservice operators across the UK."
The new farm and pioneering technology is expected to deliver significant environmental benefits over current sourcing methods and Fresh Direct and Fischer Farms will regularly report on the benefits vertical farming is delivering.