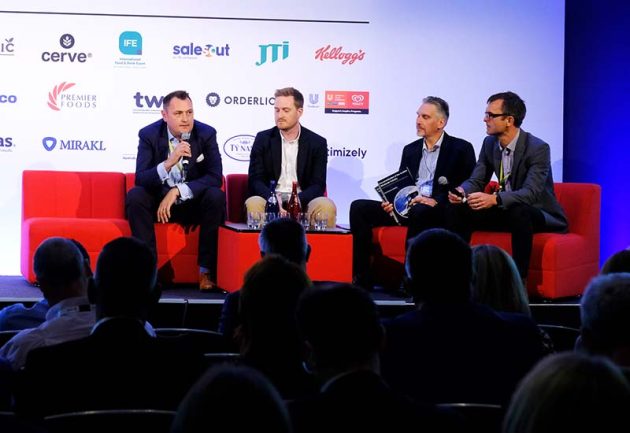 FWD conference: Collaboration key to supply chain sustainability
Industry experts gathered on stage at FWD's conference to discuss how the wholesale sector can become greener in the face of demand for greater sustainability
We're all well versed about the need to operate more sustainably, but a lot of businesses and individuals are guilty of struggling to find the right balance between being green and ensuring actions make commercial sense. The wholesale supply chain is no different, but with shoppers now making purchasing decisions based on sustainability issues, the two are increasingly going hand in hand.
"In the past two years, the main change is that consumers are demanding for sustainability so we all have to ramp up the prioritisation of it – do more and do it quicker," explains PepsiCo Wholesale and Field Sales Director, Nick Storey.
"Balancing commercials and economic viability with eco-friendly practices is a struggle, but that has changed, although with the energy price cap going up in October, people will be feeling the pinch a bit more. It's about finding the sweet spot where, on a gant chart, you get a crossover between value and sustainability. The key is efficiency because that's where you can do both."
For wholesalers that can still be a challenge as the middle man in a long chain, but it's not impossible. Brakes' Head of Sustainability and Government Relations, Peter Statham, talked about how the foodservice removed all black plastic from its products in 2020 and is now turning their attention trialling the first multi-temperature electric truck.
And while Statham admits being the shining light in the sector is a priority for Brakes, working together is crucial for long-term progress in the industry.
"Collaboration is key," Statham says. "The way I approach this is what you definitely want to be the first and that element of competition is brilliant because that's what will give us pace – and we need pace so badly to tackle the climate crisis.
"There's no way you'll have the impact without sharing and without working across the value chain [though], so the example of the truck project is good because we're working with DAF and refrigeration partners to develop it. The next stage will be working with customers, so everything is about partnerships."
It was a consistent message from the panel's two other members, with Scottish Wholesale Association Chief Executive Colin Smith and Zero Carbon Forum CEO Mark Chapman extolling the benefits of traditional competitors sharing information with each other to find effective solutions as quickly as possible.
"We haven't got time for everybody to make their own mistakes on this," he says. "So we've come together to work out where emission areas are as industry and what initiatives we need to be implementing."
The same is true for Smith, who has raised the profile of wholesale in the eyes of government by instigating a study into greener transport solutions in the sector. He praised the support of members sharing information to make that possible and rallied everyone to do the same again as the project develops.
"We can't do these industry-leading reports without engagement," Smith says. "The bigger piece is that it's onerous to dig out the data, analyse it and share it with us, but without doing that, we don't have a voice in government… so it's vital you [wholesalers] do give us that data when we ask for it. It's vital."