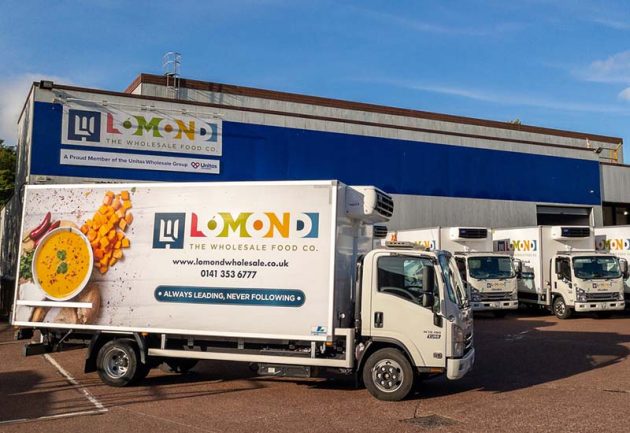 Hybrid vehicles make Lomond's operations greener
A new fleet of hybrid vehicles have been unleashed by Lomond: The Wholesale Food Co
The collection of 20 7.5-tonne hybrid refrigeration vehicles will help to reduce the foodservice wholesaler's carbon footprint.
Each of the vehicles are in Lomond's new livery design, which proudly carries the slogan 'always leading, never following' that was inspired by a long-standing customer.
And Director Barbara Henderson believes it's a positive step for the wholesaler to make.
"While the government monitors carbon emissions from vehicles, they don't monitor emissions from refrigeration, which is actually six times more polluting than the category six engines," said Henderson.
 "We have taken out the red diesel engine and fitted a battery so we now have vehicles where the refrigeration is powered by electricity rather than red diesel.
"In addition to dramatically reducing pollution, this also strips out weight which means we can carry an additional 1.3 ton of stock per vehicle, leading to increased efficiency in our business and less vehicles on the road."
The lorries have been built to a bespoke specification for Lomond to make them as environmentally friendly as possible and as a result, the wholesaler has reduced its carbon footprint by 50% since 2017.
The fleet adds to the Scottish wholesaler's environmental credentials, with the business introducing electric company cars for its field sales team earlier this year.
A fully electric van is also being used in the local area to further reduce Lomond's environmental impact.
"We are firmly committed to doing the best we can to reduce our carbon footprint and ensure we take decisions that reduce our impact on the environment, and our vehicles are a major element of this," Henderson added.
"We also take measures within our depot, such as fitting an air curtain to reduce energy wastage, and carrying out heat surveys to ensure energy efficiency."