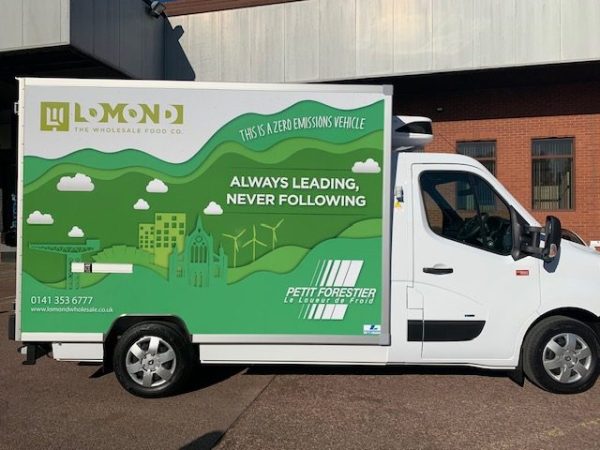 Lomond: The Wholesale Food Co rose to COP26 challenge
Lomond worked with more than 60 Scottish suppliers to deliver a locally-sourced, low-carbon, sustainable menu for COP26
The Glasgow-based wholesaler was approached by Compass Scotland, an existing customer, to deliver a locally-sourced, low-carbon, sustainable menu for COP26.
The brief for the COP26 menu was clear: 80% of the products provided, and their ingredients, must be Scottish. The remaining 15% could be from the wider UK and 5% from the rest of the world.
"We already supplied Compass Scotland but only into Compass ESS, but we were approached because of our strong focus on local sourcing, sustainability and environmental improvements," said Barbara Henderson, Director, Lomond: The Wholesale Food Co.
In order to deliver a menu that delivered on all exacting requirements for COP26, Lomond engaged with more than 60 Scottish suppliers to deliver in excess of 300 brand new products. Many of which needed to be developed from scratch to hit the required standards, a process which takes many months.
"We sourced, supplied and developed some fabulous Scottish products such as a Venison sausage roll, Scottish raspberry and chocolate plant-based brownie, Scottish smoked pulled chicken, Scottish grated mozzarella, Scottish MSC-certified haddock and Scottish soups, pizza sauces and ragus," said Barbara. "Our suppliers also produced or sourced Scottish beef and plant-based burgers, Mara seaweed, Scottish cooked meats, Scottish mini sweet pastries, Scottish brioche buns, Scottish shellfish, Scottish buffalo mozzarella balls and Scottish broccoli crisps to name just a few."
One of the largest volume lines into COP26 was a range of sandwiches and wraps developed with the chefs at Compass to meet the required standard and Lomond supplied more than 110,000 rounds of sandwiches over the course of the event.
"These sandwiches were brought down from Aberdeen daily, on a JIT basis," said Barbara. "As Lomond already delivers to a sub depot in Aberdeen on a daily basis, these were back-hauled on the existing vehicle which attracted zero road miles. This enabled us to hit the low-carbon standard while working with a great supply partner to deliver the freshest products available."
It wasn't just the low-carbon, sustainable food that Lomond delivered to the event. The team was also able to deliver a brand new eco-friendly cling film, a product so new that the product packaging wasn't complete and available.
"Incredibly, Wrapex rose to the challenge and delivered the product, meaning Compass Scotland was the first company in the UK to list the Eco-Cling, a fully recyclable cling film in a reusable Speedwrap Dispensing System," said Barbara.
Delivery of the contract
"Operationally, the contract was challenging," said Barbara. "Volumes were hard to predict, security was exceptionally tight and deliveries were made throughout the night. Pallets needed to be scanned at security check points, which caused complication as stock had to be built in small pallets to pass through a scanner, which meant that volume was much reduced and more vehicles were needed. In fact, each 18-ton loaded vehicle took more than four hours to complete the security process which slowed everything down."
Astonishingly, Lomond did not recruit any additional staff to deliver the contract for COP26. Given the complexity and high security demands of the contract, instead the wholesaler used its most experienced team members to deliver the contract.
"We incentivised our team to work the long, unsociable hours required and as expected, our team rose to the challenge and went the extra mile to deliver a highly successful event. As a local Scottish family business, we pride ourselves on our flexibility and the can-do attitude from our staff ensured a fantastic result," she said.
Lasting legacy
Lomond has long been committed to sourcing Scottish products where possible. Pre-Covid, 29% of its product range was Scottish, and in 2020, it send an ambitious target to achieve a 50% Scottish product range by the end of 2022. By the end of October 2021, Lomond hit 41% so is well on the way to achieving the 50% target.
The success of the COP26 menu has now led to a long-lasting sustainable supply chain as the menu will continue to be used across multiple Compass Scotland sites, leading to ongoing business for Lomond and many of the Scottish suppliers.