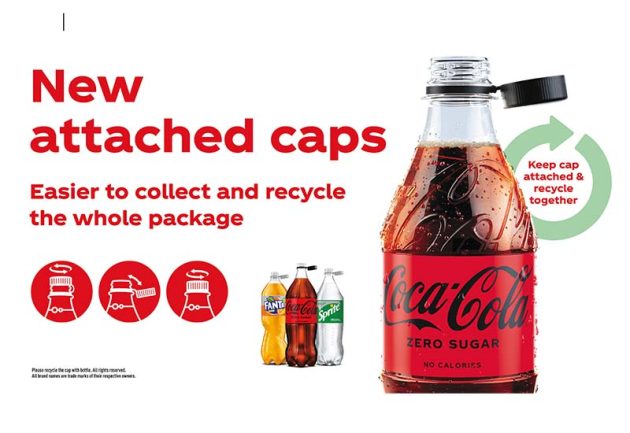 New Coca-Cola caps to improve recycling rates
Recycling Coca-Cola products has been made easier after the soft drinks giant introduced new, attached caps to its plastic bottles
Production of bottles with attached caps began on 17 May at CCEP's site in East Kilbride in Scotland – with consumers in Scotland and the North of England set to see new caps attached to 1.5 litre bottles of Fanta, Coca-Cola Zero Sugar and Diet Coke first.
The switch is set to be completed for all plastic bottles across Coca-Cola GB's range of brands by early 2024, with its site in Edmonton in North London set to begin production later this year before the rest of the UK follows in the next 18 months.
All of Coca-Cola's bottles, including the caps, have been 100% recyclable for many years but not all are being recycled, with bottle caps are often discarded and littered.
The new design means the cap stays connected to the bottle after opening, so the whole plastic bottle and attached cap can be recycled together, reducing the chance of the lids becoming litter.
Working in partnership with CCEP, Coca-Cola is the first major soft drinks company to announce the switch across its entire range in Great Britain.
Coca-Cola has announced major initiatives both globally and locally to help create a "circular economy" for plastic, which are key to Coca-Cola's ambition to create a World Without Waste.
Last year, CCEP announced that it had reached its target of using 100% recycled plastic – excluding caps and labels – in all its 500ml or smaller bottles sold in Great Britain ahead of schedule, helping to save around 29,000 tonnes of plastic per year.
The move also follows CCEP's transition to Shrink to Board packs at the business' Sidcup manufacturing site last year, alongside light-weighting of its aluminium cans, which are now 22% lighter than just two years ago.
"This is a small change that we hope will have a big impact, ensuring that when consumers recycle our bottles, no cap gets left behind." said CCEP General Manager Stephen Moorhouse.
"The move is just one of the steps we're taking as part of our This is Forward sustainability action plan, which targets six key social and environmental areas where the business has a significant impact and forms a key element of our 2040 net zero target.
"It's also one of many steps we're taking towards our global commitment, in partnership with The Coca-Cola Company, to help collect and recycle a bottle or can for every one that we sell by 2025, on our journey towards a World Without Waste.
"As the world's largest independent bottler of Coca-Cola, we recognise that we have a leading role to play in pushing innovation and design to produce more high-quality recycled plastic which can be converted into new bottles."
"We are proud to be leading the industry in Great Britain, with production of the new attached caps to our plastic bottles first taking place right here in East Kilbride, following £32m in investment into the site since 2017."