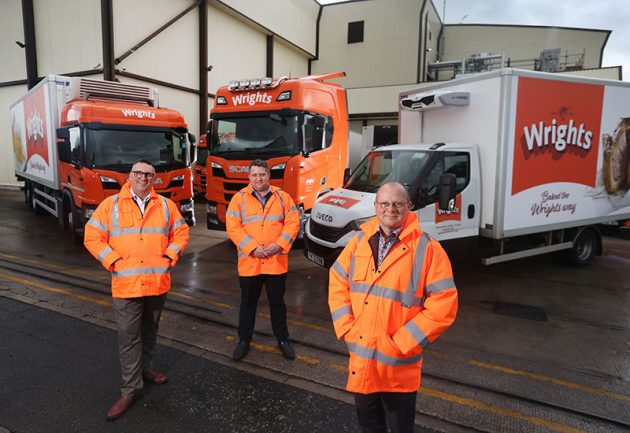 New environmentally friendly fleet for Wrights
Food manufacturing specialist Wrights has announced a £1.3m investment in a fleet of environmentally friendly vehicles.
The three-site manufacturer which supplies and distributes sweet and savoury bakery products and ready meals into the hospitality and retail sectors as part of The Compleat Food Group, has invested in eight new vehicles which are fuelled by Compressed Natural Gas (CNG) bringing a 95% saving in carbon emissions.
The new fleet includes heavy duty tractor units which tow trailered loads, typically transporting frozen goods to customers across the UK; rigid vehicles and shop vehicles which transport items baked in Crewe to local shops and businesses across the North West.
Health, Safety & Environmental Compliance Manager Paul Strangwood said: "We are working hard to get ahead of the government-set target of reducing carbon emissions by 2030. This is a mission which sits alongside our wider Group's Environmental, Social and Governance targets which include a commitment here in Crewe of making a 50% reduction of our 2021 carbon emission levels by 2030 and a 90% reduction on 2021 carbon emission levels by 2035.
"While the carbon emission reduction of our new vehicles is integral to our investment, there are additional benefits to our new fleet, such as the onboard fridges and freezers which are generator driven from the vehicles' engines and reduces the environmental impact even further. And with our team's comfort and safety always a priority, we have taken steps to ensure the new vehicles are fully equipped with additional home comforts including larger bunks, upgraded cabin seats and more cupboard space which support drivers when they need to be away overnight."
Paul added: "This investment reflects our values and commitment to doing good business from concept to plate and from employees through to our customers. Our plan is to review and replace our current fleet as they are due to be renewed."
David Moore, Compleat Food Group's Head of Environmental Social and Governance (ESG), added: "Decarbonising our fleet is an important step on our journey to Net Zero. Moving from diesel to CNG from is a crucial step for us and to having made this investment we are showing our commitment to achieving our Net Zero targets."
Wrights was established in 1926 by Jack and Lizzie Wright who sold pies to neighbours from their Stoke-on-Trent doorstep. Today the company's Crewe-based 600 strong workforce manufactures and distributes savoury pastries, sweet bakery and ready meals into retail and foodservice sectors and manages 15 Wrights branded bakery stores across the North West.