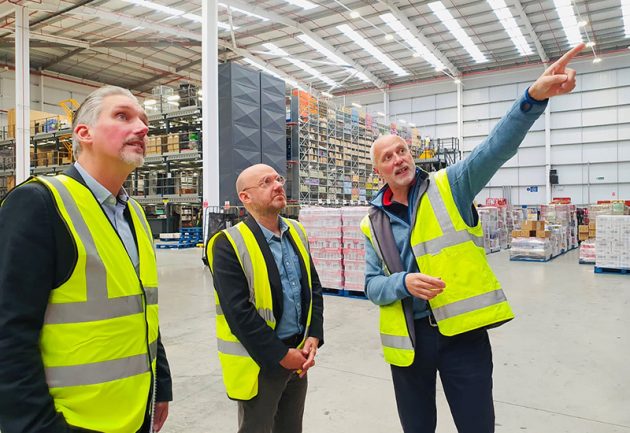 Scottish minister sees net zero challenges first hand
Visit to JW Filshill organised by SWA which has set out plans to reach net zero by 2040, in time for Scotland's net-zero target of 2045
Patrick Harvie, Scottish Government's Minister for Zero Carbon Buildings, Active Travel and Tenants' Rights, visited JW Filshill to see first hand the opportunities and challenges faced by wholesalers in their bid to be net zero by 2045.
In June, the Scottish Wholesale Association (SWA) outlined its ambitions in a new report, 'Decarbonising the Scottish Wholesale Sector', which explores the sector's emissions, and attitudes to the issue and the barriers faced in taking climate action. This was launched alongside the UK Wholesale Sector Net Zero Roadmap, developed in collaboration with FWD.
Colin Smith, SWA chief executive, said: "We were delighted to be able to show the minister what a Grade A wholesale depot looks like and the significant investment required to get to this standard.
"Contrasting this with JW Filshill's previous 1970s depot, which is typical of the 120-plus depots across the SWA's membership, we were able to highlight to the minister the various areas of investment, steps and challenges faced in retrofitting an older building to attain any significant energy-efficiency savings, let alone achieve Grade A energy performance certification."
Mr Smith added: "We discussed what is required if we are to secure a just transition for our sector to reach net zero which includes the need for direct and indirect financial assistance for capital costs to invest in renewable energy, greater access to knowledge, and guidance from government agencies.
"There is also a need for planning processes to be streamlined and supportive of businesses' ambitions, and for businesses to have confidence in, and clarity, of government plans for the decarbonisation of non-domestic buildings."
During his visit to Filshill, which relocated to Westway Park from nearby Hillington in March and is one of Scotland's oldest food and drink wholesalers, Mr Harvie heard from Keith Geddes, the company's chief financial and operating officer, about the development of the new distribution centre which has been aligned to its long-term strategy around benchmarking its carbon footprint.
This included identifying areas where Filshill can positively influence a reduction in its carbon impact and work towards a net-zero emissions position. Mr Geddes spoke about the action taken on decarbonising buildings as part of relocation, including the utilisation of technology that helps monitor use of energy from solar panels. The 16-metre-high warehouse has 211 solar panels covering 400 square metres of roof space.