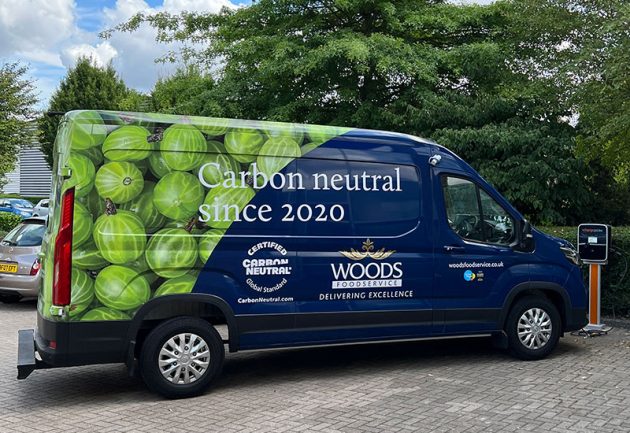 Woods Foodservice: Three years carbon neutral
Demonstrating a long-term focus on sustainability, Woods Foodservice is celebrating its official carbon neutral status for the third year running
"We're absolutely delighted to have achieved this once again," says Lana Bhikha, Deputy General Manager. "We met the accreditation's strict protocol by combining in-house sustainability practices with external emission reduction projects to reduce our carbon footprint to zero. We launched new sustainability practices such as introducing electric and biofueled delivery vans and all our company cars are now electric.
"We collect cardboard and plastic from our customers, which we then recycle using in-house compactors, plus cardboard delivery crates are collected and reused for future deliveries. We use energy produced by our own solar panels to help run our main depot, and our partnership with Climate Impact Project provides clean cooking solutions in rural India, as well as water filtration systems and improved cookstoves in Guatemala, which helps us offset any remaining carbon emissions."
The Uxbridge-based wholesaler has introduced six new chiller lorries, which maintain freshness and quality of produce while on the road, reducing food waste. The 7.5t lorries include separated frozen and chilled sections with a removable wall for flexible spacing of either section to reduce wasted energy too. The lorry also maintains the temperature of chilled goods by installing a bi-pass fan that pulls frozen air from the freezer, reusing energy. Woods made the decision to keep these lorries white to reduce the amount of energy absorbed on sunny days.
The business has acquired an additional new warehouse with state-of-the-art technology for its fresh and chilled range. This improves efficiencies by using energy-saving lighting and evaporative coolers that help optimise air moisture and temperature, allowing the warehouse to cool using much less energy.
There is even a new chocolate room that is set between 18 and 20 degrees with 60% humidity or less to help keep chocolate at the perfect temperature, reducing food waste.
Looking ahead, Woods also has 12 electric delivery vans on order that have solar panels to reduce energy in electric charging.